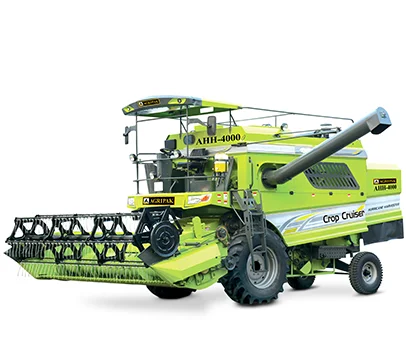 The modern combine harvester, or combine for short, is a versatile machine meticulously designed to efficiently harvest a variety of grain crops. Its name is derived from its ability to combine three separate harvesting operations—reaping, threshing, and winnowing—into a single streamlined process. The combine is utilized for harvesting a diverse range of crops including wheat, oats, rye, barley, corn (maize), sorghum, soybeans, flax (linseed), sunflowers, and canola. After the harvest, the leftover straw, which consists of stems and a few remaining leaves with limited nutrients, can be either chopped and spread across the field for ploughing, or baled to serve as bedding and limited-feed for livestock.
agri-kartar combine harvester
AGRIPAK Group takes immense pride in our dedicated and highly professional team, which is always prepared to guide and support farmers right from the initial step of land development. We assist in the proper selection of machinery, crop choices, crop maintenance, and cost-efficient methods to maximize yields, ultimately enabling individuals to achieve the status of accomplished farmers.
We are in a constant state of research, aiming to uncover new advancements in agriculture machinery to foster farmers' growth. Introducing our AGRI-Kartar Combine Harvesters to the global farming community is a step towards enhancing farming efficiency within a short timeframe. As the name suggests, combine harvesters are capable of reaping, threshing, and winnowing grains.
The AGRI-KARTAR combine harvester distinguishes itself from other models such as John Deere Combine Harvester, Kubota Combine Harvester, and Class Combine Harvesters in the following ways:
Spacious AC Cabin
Heavy-Duty Components
Minimal Grain Loss
Simplicity in Structure
Easy Maintenance and Low Maintenance Costs
Accessibility to Spare Parts
The AGRI-KARTAR combine harvester is available with both AC and non-AC cabins. Our harvester is versatile, performing effectively in various agricultural capacities, including:
Wheat Combine Harvester
Maize Combine Harvester
Rice or Paddy Combine Harvester
Soya Bean Combine Harvester
Sunflower Combine Harvester
Our combine harvester has gained popularity in numerous African countries, including Nigeria, Ghana, Kenya, Botswana, Congo, Zimbabwe, Senegal, and others.